Gyms, yoga, dance sports, etc. seem to be familiar and not attractive enough to a degree, meanwhile, another strange and familiar exercise emerging currently makes a new trend. Do you know? It is Kickfit. So, what is Kickfit? Why is it strange but familiar? Kickfit is a combination of Kick boxing and Fitness, which helps to train the athlete to stay healthy and practice self defense.
Kickfit – Go to the gym is to participate in a lively battle. Kickfit is an awkward combination of Kickboxing and Fitness that helps the limbs and the whole body to get maximum movement. Martial arts movements help to train strength, endurance and speed, combined with the movements of Fitness to help the body remain in balance, loseweight or gain weight as you wish.
Many people have the habit of practicing sports to stay fit and healthy, but many people give up or workout irregularly because most of the subjects are practiced individually. Besides that, Using machine to practice for repeat exercises is easy to get boring Exercise in crowded classes is not effective because there is no supervisor.
Kickfit at fitness centers such as the AKC Fitness studied to pleasant the individual's wishes will provide a new training environment for martial arts-based kickboxing exercises. No training with the machines, coaches and trainers and rivals will always stimulate the spirit of practice, which will raise the spirit and enthusiasm in joiners. The kicking kick, combining the rhythm and toughness of kickfit Vietnam at AKC Fitness will help students find a new feeling because the lesson is always changing and developing day by day.
Kickfit – Beautiful, Healthy, Martial Arts
– Nice – Get back your toned body, gain / lose weight
– Healthy – Drain tiredness, refresh mental health
– Martial arts – Accumulate ability to defend in unexpected situations
A Kickfit training session can burn 800-1000lbs /h, dissolve the fat layer that covers the muscles, help the muscles firmly, proliferate, recreate the curves and cut the whole body. Kickfitness training combined with a balanced diet, counseled and supervised by the coaches will help to lose weight fast, effectively, prevent weight gain back. Many practitioners have achieved the ideal result, reducing waist circumference by 10cm, dropping 3-5kg in only 8 training sessions.
For those who have to work in the office, move in limit, work stressfully tired, Kickfit's combat exercises will help to relieve stress, create excitement, refreshing and relaxing.
Additionally, coaches at AKC Fitness are professional trainers with profound martial arts backgrounds, who will be trained in kickboxing self-defense, react quickly in dangerous situations. . This is a practical and important value in the life of the dangers that can happen to yourself and your loved ones.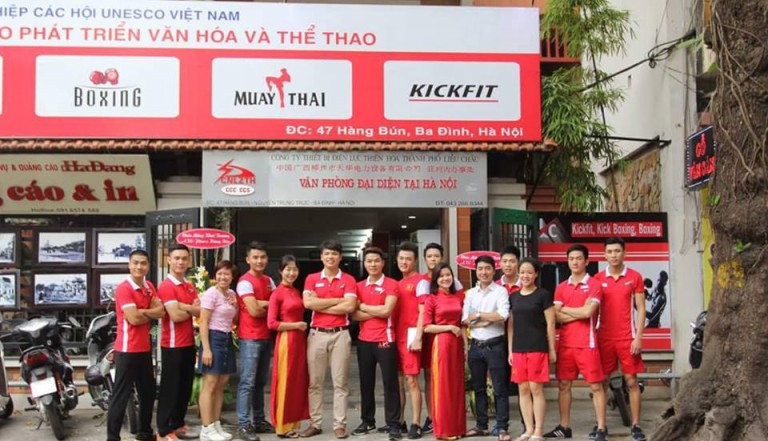 Because of the benefit of 2 in 1, both beautiful, healthy and safe thanks to martial arts combined fitness, Kickfit has quickly become the new trend of office workers and sports lovers. In addition, each participant joining in the Kickfit will have a separate course of study depending on individual needs and personalities, not constrained and subject to the operation of machines such as gyms or single subjects. Let's discover the exciting new exercise atmosphere with Kickfit at AKC Fitness – one of the first gyms to launch the premium KickFitness program in Vietnam at an affordable kickfit price. The price of the kickfit course depends on the class and time of study at the center. To know
more information, please contact us immediately for a free trial consultation and registration. Let's double the value of time and benefit together with going to the gym, to meet the needs of physical beauty, break stress, maintain strength and endurance, train self-defense reflexes to protect yourself and your lovers